Consileon gives "comforter teddy bears" to children in hospital
Karlsruhe, June 18, 2021 – In cooperation with Kinderhilfe Diekholzen, Consileon has donated 100 "comfort teddy bears" for young patients to the Karlsruhe Children's Hospital (Kinderklinik Karlsruhe) and the German Red Cross (DRK). In doing so, the Karlsruhe-based consulting firm is following up on various previous donation campaigns that have been used for several years to support targeted initiatives for needy children in Germany and around the world.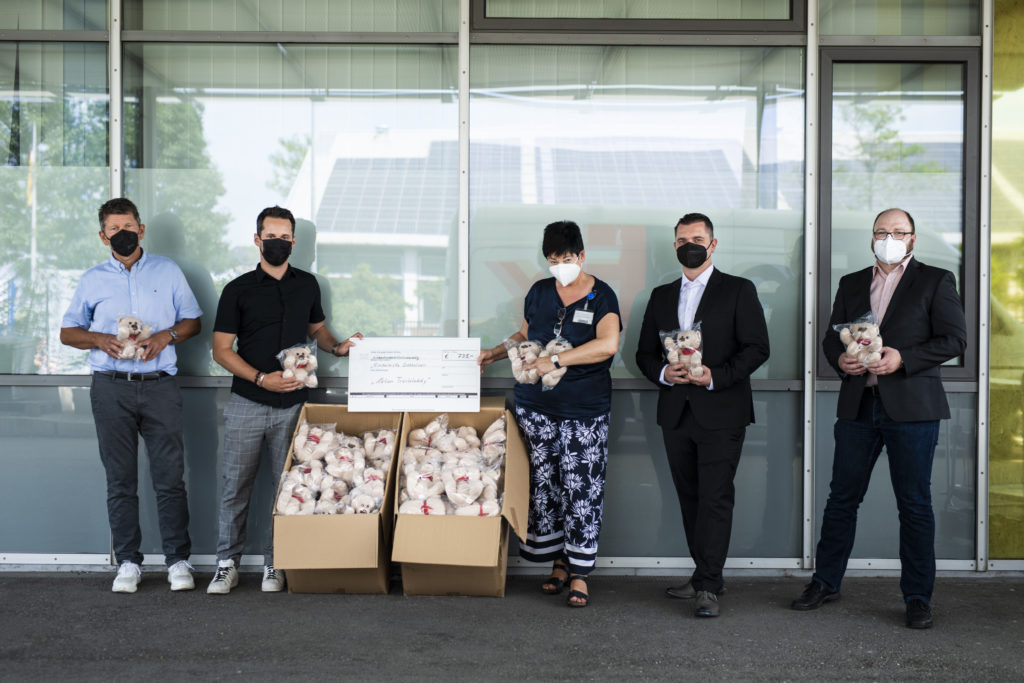 Plush encouragers for DRK and the Karlsruhe Children's Hospital
"In times of Corona, hospitalization hits children and their families particularly hard. Visits are often not possible due to the pandemic. In addition, hospital staff are working at the absolute limit of their capacity even more than ever before," explains Consileon founder and managing partner Dr. Joachim Schü. "We heard about the 'Trösteteddy' campaign of Kinderhilfe Diekholzen and decided straight away to take part. The stuffed animals provide amusement in the hospital, bring joy to the children and thus also support the staff in their hard work."
For this reason, Consileon has now donated 100 teddy bears worth a total of around 1,500 euros, which meet all legal and health requirements such as CE testing and freedom from harmful substances. 50 comforters each will go to the Karlsruhe Municipal Hospital and the German Red Cross in Bruchsal: Tobias Leibach, Marketing Manager at Consileon, presented the donation to the head of nursing at the children's hospital, Sabine Murawski, on June 17, 2021. "The 'comfort teddy bears' make an important contribution to our work because we can encourage our little patients with a cuddly friend in difficult moments," says Sabine Murawski, who is delighted with the donation.
The initiator of the "Trösteteddy" initiative is Kinderhilfe Diekholzen, which is committed to promoting child and youth welfare and public health. "We are glad that we were able to win Consileon as a generous sponsor for our campaign and thus continue our work in the region," Martin Ziss of Kinderhilfe Diekholzen is enthusiastic.
Children in need at the center of commitment
With this fundraising campaign, the Consileon group is continuing its long-standing support for various regional, nationwide and international initiatives for children in emergency situations. "We have once again significantly expanded our commitment to social aid projects since the beginning of the Corona crisis," says Dr. Joachim Schü. "As part of our corporate responsibility, we would like to help above all needy children who have been hit hard by crises and strokes of fate."
Further information on the Consileon Group's social commitment can be found at https://www.consileon.de/en/responsibility/.