We help you to successfully implement your project according to the Hospital Future Act!
The implementation of the Krankenhauszukunftsgesetz (Hospital Future Act (KHZG)) is currently entering the next phase. The applications have been submitted and approved, and now the implementation of the digitization projects begins. Efficient implementation requires competent and experienced partners. We support you in all phases of your KHZG project [1] with comprehensive expertise and experience in digitization projects in the clinical environment.
In doing so, we ensure that all solutions are adapted to your individual needs and existing resources. In doing so, we have certified consultants and our own development resources. This enables us to ensure that your project is implemented efficiently and in a way that conserves resources. Thanks to our experience in the hospital environment, we manage to ensure the lowest possible impact on your daily hospital routine. This allows you to focus on your operations and your patients – we take care of your digitization.
Our consultants have been certified by the Federal Office for Social Security as IT service providers in accordance with the Hospital Future Act (KHZG §21 KHSFV). We are at your side as a competent contact throughout the entire project. From the selection of IT solutions and suppliers, through negotiations with suppliers, to the individual adaptation of solutions to your existing environments and needs. In doing so, we offer you the highest IT and information security , which is becoming increasingly important for your hospital, even beyond the KHZG.
We support you in all phases of your projects from tendering to successful completion. Contact our healthcare expert today. We look forward to hearing from you.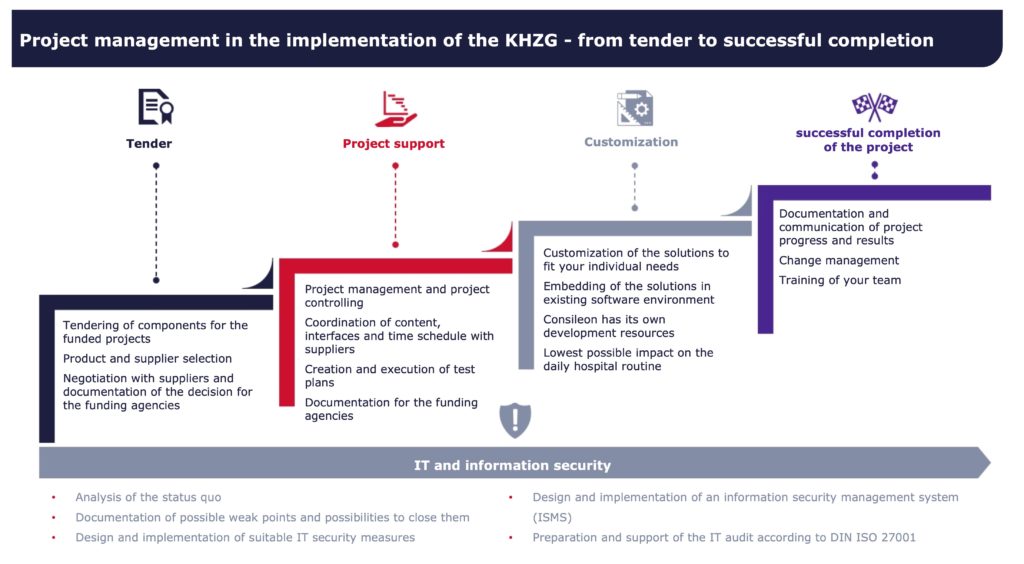 [1], e.g., information technology equipment in the emergency room, patient portals, electronic documentation of care and treatment services, establishment of automated, clinical decision support systems, digital medication management, digital service request, service reconciliation and cloud computing systems, digital care record system for beds (bed management), IT and cyber security measures, and cross-sector telemedicine network structures in accordance with the Hospital Future Fund Ordinance.