Manage projects effectively, take advantage of synergies
The more projects run in parallel in a company, the more difficult it becomes to maintain an overview, prioritize projects, allocate resources, and avoid duplication of work. Cross-cutting tasks such as these are handled by a project management office (PMO) as the control center and point of contact for the project teams. Consileon offers PMO as a service (PMOaaS) so that smaller or less methodologically experienced companies can also benefit from it. The focus is on the following goals:
Quality control: through standardization of all factors of project work
Cost reduction: synergy through bundling of cross-sectional tasks
Compliance: adherence to legal and internal requirements for employee leasing
Optimization: through monitoring and continuous improvement
Our PMO Team takes on all the tasks involved in achieving these goals, from communication with stakeholders to requirements management, scheduling, staff planning, cost control, project control, risk management, quality assurance and change management.
Customer benefits of the external PMO
Bundling of cross-sectional and routine tasks
Detailed project plan with clear specifications and quality measures
Everyone in the team knows the project goal and their tasks
Precise billing according to SLA: you only pay for what we have provided
Transparency through constant performance reviews and regular quality reports
PMO staffing levels are adjusted to the workload
Consileon project framework
In many years of practice, we have developed our own project framework, which is based on internationally recognized methods such as PMI and PRINCE2. The framework has a modular structure. Each module contains templates, models and groupware for a project phase – from personnel deployment and time planning to quality assurance, controlling and documentation. With this construction kit, the PMO maps your projects holistically and rationally. For group projects, the framework also facilitates coordination and system integration among stakeholders.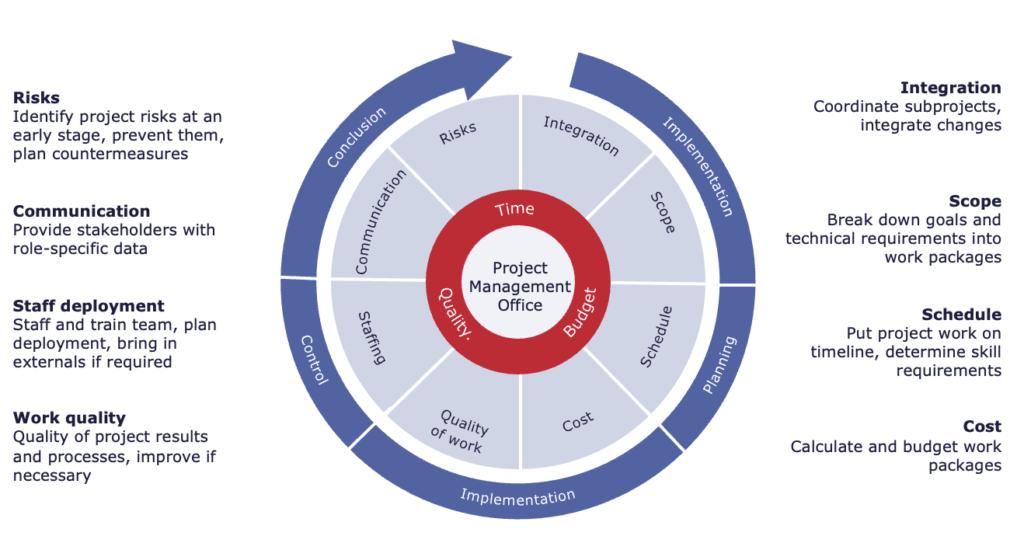 Your collaboration with our PMO is divided into seven phases.
Needs assessmen: What is pending? What is urgent, what can wait?
Planning, preparation: flexible deployment planning based on comprehensive checklists
Processing of supplementary requests: quick response to subsequent customer requests
Accepting Orders
Performance: professional, highly efficient support for your projects
Settlement: Transparency and cost efficiency through clearly defined service modules
Quality control on the basis of proven key figures
In all project phases, we subject the work of the PMO to continuous performance reviews, the results of which we report to you on a regular basis.
The services of the PMO are divided into four classes: One-time service, rotational service, workflow responsibility, full service. You choose from this range according to your needs. In addition, you clarify with us in advance of the cooperation the proportionate staffing of the PMO from your employees and external forces.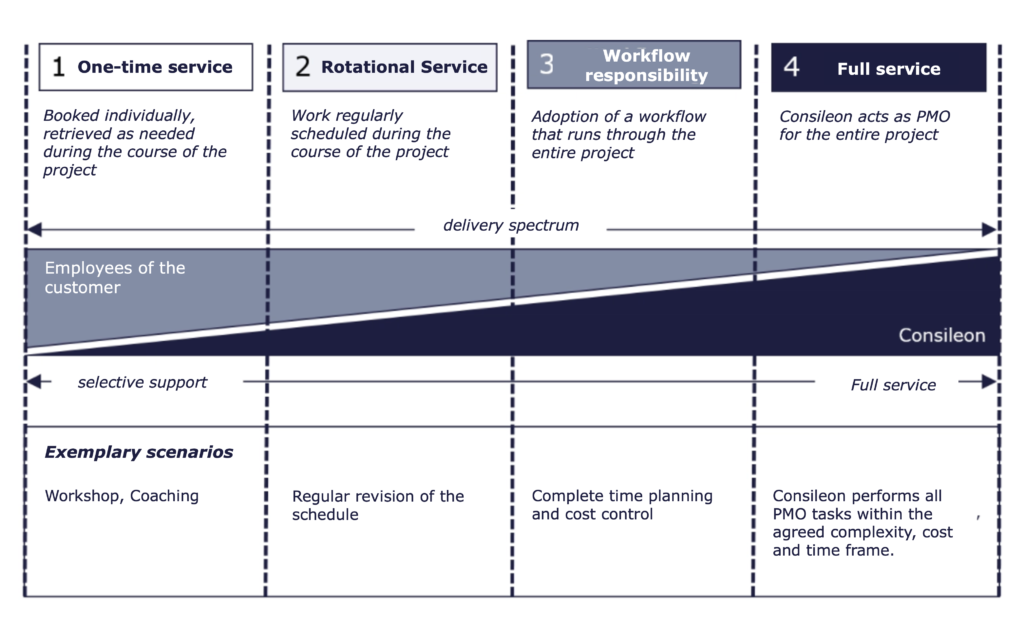 An overview diagram shows our fields of knowledge and services. Tabular profiles provide details. We define the scope and quality of our services with you in a service level agreement (SLA), and use key figures to measure and report on success.

The Service Level Agreement specifies a service agreed by terms of a service or hire contract. Its object can be a one-off service, a rotational service or a service package. Compliance with the SLA is measured by three key figures: Response time, processing time, result quality. The specifications for each key figure are graded according to three priority levels.
The collection of the key figures specified in the SLA serves not only to measure progress and work quality, but also to provide statistics and trend forecasts for medium- and long-term optimization. We report these figures to you on a weekly or monthly basis. It is also possible to have a real-time, continuous display (live tracking) of the key figures on a dashboard. Deviations of the actual performance from the targets from the SLA are analyzed, and the target is adjusted if necessary. We recommend such an in-depth statistical evaluation, including comparison with the previous period, at quarterly or half-yearly intervals
Levels of cooperation
You work with our PMO on three levels: the strategic, the organizational and the operational level, the day-to-day project work. On the strategic level, we define the tasks of the PMO in coordination rounds with the following stakeholders, and monitor and control its work.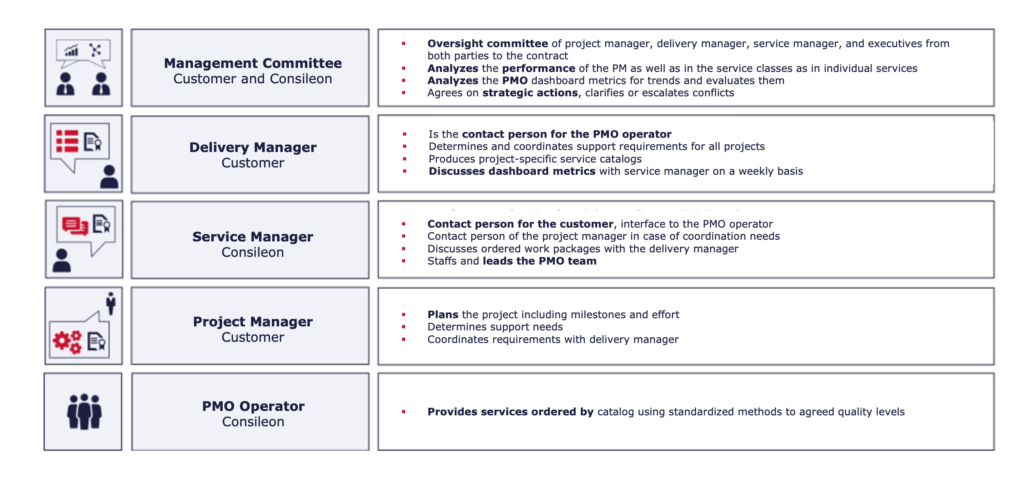 At the organizational level, the PMO performs the following tasks:
Planning and preparation
Clarify specifications: Process model (classic or agile), location of the PMO (at the customer or remote), budget, time schedule
Project manager and PMO identify support needs
Choice of service classes (one-time service, rotation, workflow, full service)
Publication of the service catalog
Via an order mask, the project manager selects PMO services and the desired frequency from the catalog at the click of a mouse. Mandatory fields in the mask ask for all the parameters that the office needs for deployment planning. If a team wants to use more one-off services, regular services or service packages later in the project, they simply order them from the catalog.
Performance and billing
Support requests flow into a ticket system. In addition to SLAs, key figures, and the schedule, current statuses are stored there, including ongoing projects and requests, the current workload of the PMO, and quality statistics. The delivery manager views the tickets, forwards them to the specialists and monitors the processing. The ticket system thus forms the most important interface between project manager and PMO. Billing is done by projects, services or packages on a quarterly or semi-annual basis.
Quality assurance
Through regular mutual feedback, the interaction between the project teams and the external PMO runs better and better. Feedback includes a target/actual comparison, which is documented for statistical purposes. A checklist helps with acceptance and evaluation. Questionnaires with analysis and reporting functions determine how the project parties have solved acute problems in each case.
We tailor our PMO as a Service to the needs of the customer company. The service manager we deploy ensures that everything runs smoothly….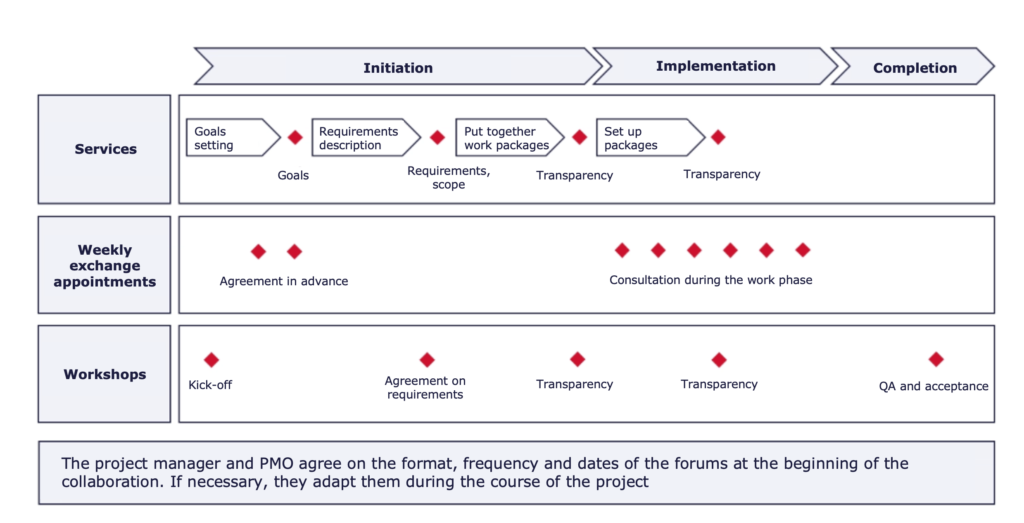 Teleworking is part of everyday life at Consileon. We know what it means to manage projects with virtual teams of face-to-face staff and teleworkers. Even if the distance between colleagues is longer, goals and tasks need to be communicated quickly and clearly. To make this possible, we support you with groupware for project tracking, brainstorming and conferences, among other things.