– in the digital era
The customer group of business customers is traditionally described as very heterogeneous in banks and segmented differently accordingly. Small companies with annual sales of up to €5 million represent the bulk of this segment at 97 percent, with 50 percent alone having annual sales of up to €100,000.
Today, the business customer segment is defined by its close ties to the retail customer business of the operating banks. While digitization has become increasingly important in the retail customer business over the past decade and is visibly shaping the dialog between the bank and the customer, business customers represent a highly neglected customer group in this development. In their daily work, customer advisors are often confronted with several hundred business customers without any digital support. At the same time, they are expected to provide holistic advice with a sales model focused on product sales.
There is hardly any digital support worth mentioning for the activities of the consultants. Instead, the establishment of call centers or business customer centers is used as a postulated modern support model. As a Consileon survey of business customer executives confirms, only 9 percent of respondents give high priority to the changing requirements of business customers when it comes to digitization.
While providers in the e-commerce and telecommunications sectors determine and evaluate their customers' data and preferences almost in real time and use them to create an individual client experience, banks collect these values only very irregularly, or they use the collected data in a poorly targeted manner. Often, a personal dialog takes place only once a year using physical consultation forms.
But even this data rarely finds its way into banks' systems for digital, strategic and sustainable use and customer engagement. Data collection is mostly focused solely on assessing credit risk and meeting regulatory-driven requirements.  In the case of business customers, there are hardly any incentives to share information so as not to have an unnecessarily negative impact on access to important financing.
However, financial partnerships should also promote and allow structured dialog on "negative" developments. In addition, modern CRM systems can be used to address potential customers in a targeted and efficient manner. By intelligently linking internal information and information freely available on the market (e.g., via social networks), a targeted acquisition process can be created. Business customers are also increasingly learning to appreciate the advantages of digital platforms, products and services and are increasingly using the services of non-banks or FinTechs for this purpose, e.g. for payment transactions, financing or currency transactions. The increasing acceptance of these services in particular should worry banks, as the digital providers now know more about their customers in some cases than the bank advisor himself and are increasingly using this knowledge strategically for an individualized private and business approach to business customers.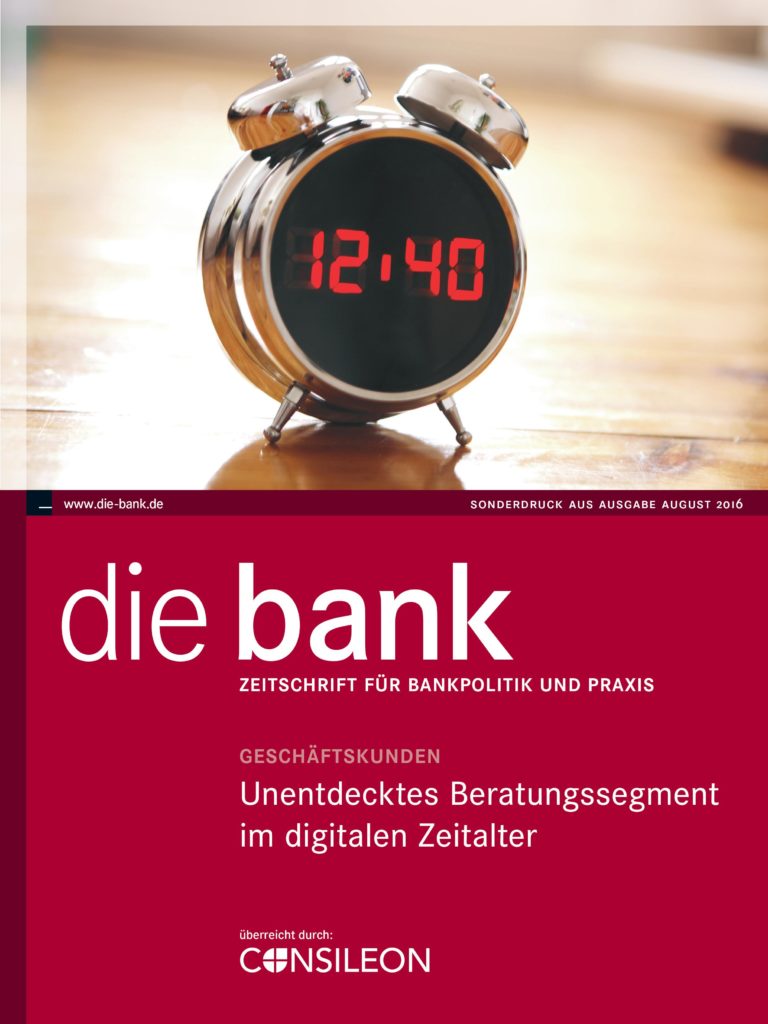 Learn more in our article for the magazine "die bank". (*only available in German)