In the course of a public sector offensive, Consileon AT has participated in various public tenders since fall 2020 and won framework contracts with a total volume of EUR 433 million in 2021 alone.
Specifically, these include: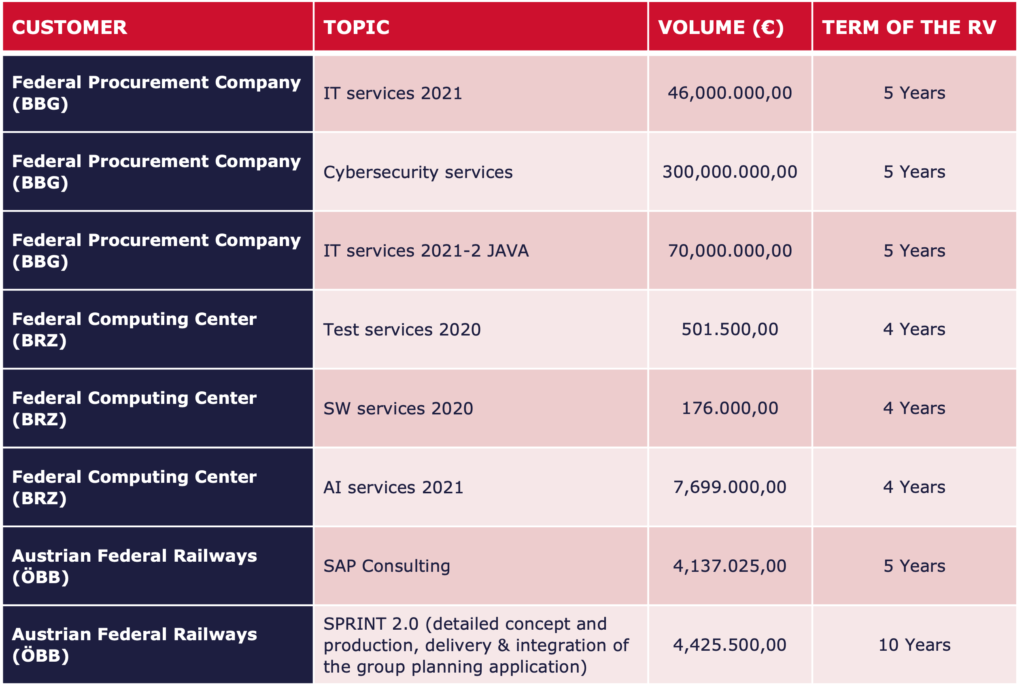 In order to be able to win these tenders, we have formed consortia with well-known, international consulting firms, such as Sopra Steria SE, NTT Data or Senacor AG.
Consileon was always the lead general contractor in these tenders, and the above-mentioned tender partners were our subcontractors.
Most recently, we participated – in a constellation as described above – in a BBG tender for IT services 2022, with a volume of EUR 778 million, which we submitted in February 2022. Here, too, we believe we have a good chance of winning some of the lots submitted. We expect the result in the fall of 2022.
In February 2022, we also submitted our offer to conclude a further framework agreement with BRZ GmbH on the subject of "IT project management, IT product development/support and IT modernization for financial administration". This framework agreement has a volume of EUR 481 million and a term of 4 years (+2-year option).
Likewise, 3 weeks ago we handed in our elaborated qualification documents for a tender of EVN AG (energy), which is about the award of 32,000 hours/year for the next 6 years in the field of "test resources". We hope to be able to score here as well!
In our opinion, this public sector offensive is a promising basis for Consileon's sustainable and long-term growth in this segment.