And that's exactly why we're making November Movember!
Dad, best friend, brother, husband, cousin, neighbour, colleague, nephew, boss … – everyone surely has at least one man in their life who is close to their heart. And that is exactly why everyone should try to contribute a little bit to the well-being and health of these men. Mental health, suicide prevention, prevention and information on prostate and testicular cancer is an important topic, which is why we are also involved in Movember.
And that is exactly why we as Consileon also want to participate in the Movember Challenge and give these topics a stage. As every year, there are three different formats to participate: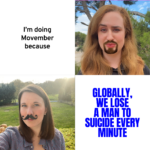 Grow a moustache
Patchy, crooked, itchy or epic – no matter what kind of moustache you grow, the face should draw attention to the Movember action. Precisely because the moustache went out of fashion back in the late 80s, men simply stand out with it. But not all moustaches are the same. On page 6 there are a variety of alternatives.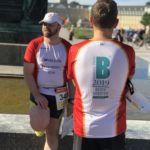 Move for Movember
You run or walk 60 km a month for the 60 men we lose to suicide every hour around the world. Among other things, sport can have a positive influence on mental health and prevent illness. The idea is simply to run and somehow prove it at the end of the month.
Host a MO-ment
In the course of the next Consileon company meeting, we are organising an open space on the topic of "Movember and men's health", because education is just as important for our employees.
But moustaches and kilometres are not enough for us – we want to do more. We are launching a fundraising campaign on the webseite in support of the Men's Health Foundation. With your support, we would like to promote the project "Against dangerous brain doping", because stress in everyday life is familiar to many. More and more often, people regularly resort to performance-enhancing drugs and/or alcohol. This can have serious consequences for health. We would like to make our contribution to help those affected.
Movember is an initiative that has been raising awareness of issues such as mental health and suicide prevention in men as well as prostate and testicular cancer since 2003. Even if some men are reluctant to talk about it, these topics can be important (for survival).
You can find a lot more information on Movember.
We are very pleased that our management is actively supporting the Movember campaign and adding another 10% of the donations received via betterplace. We would like to take this opportunity to say a big thank you.
And now it's your turn, our readers – moustache or move The choice is yours. Every donation helps to make the world of the men we care about a little better. We will keep you up to date on the current progress of the Challenge on our LinkedIn channel , among other places.