All signs point to action – Welcome to the Future SME Banking
Our study "2025 Future SME Banking – Welcome to the New Normal" helps banks or savings banks in the business customer segment to sustainably secure their existence in an ambitious market environment and to maximize their potential for success. SMEs have formed the strong backbone of the economy in this country for decades. This is one of the reasons why business customers are an attractive segment for financial institutions – from regional to national and international financial institutions – although they are still insufficiently developed. Taking into account the effects of the Corona crisis for SME banks as well as SMEs, we show new, exciting fields of action for a sustainable, modern future.
Four key success factors to become a Trusted Advisor lead to your success!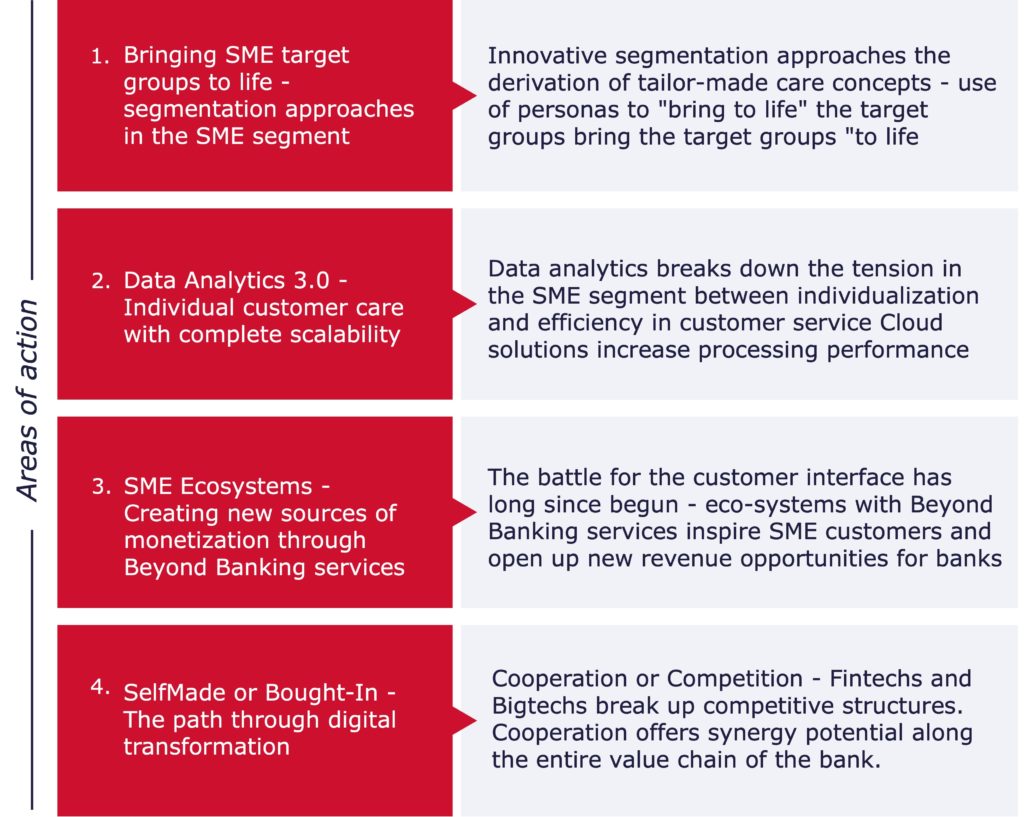 Act. But now! Missing strategies for the orientation of the SME business segment as well as a lack of individuality of the SME customer result in low profit margins. In order to exploit the hidden potential of SME customers, we provide you with the Consileon "SME Banking Transformation Compass", a toolbox for the future design and exploration of your SME business model.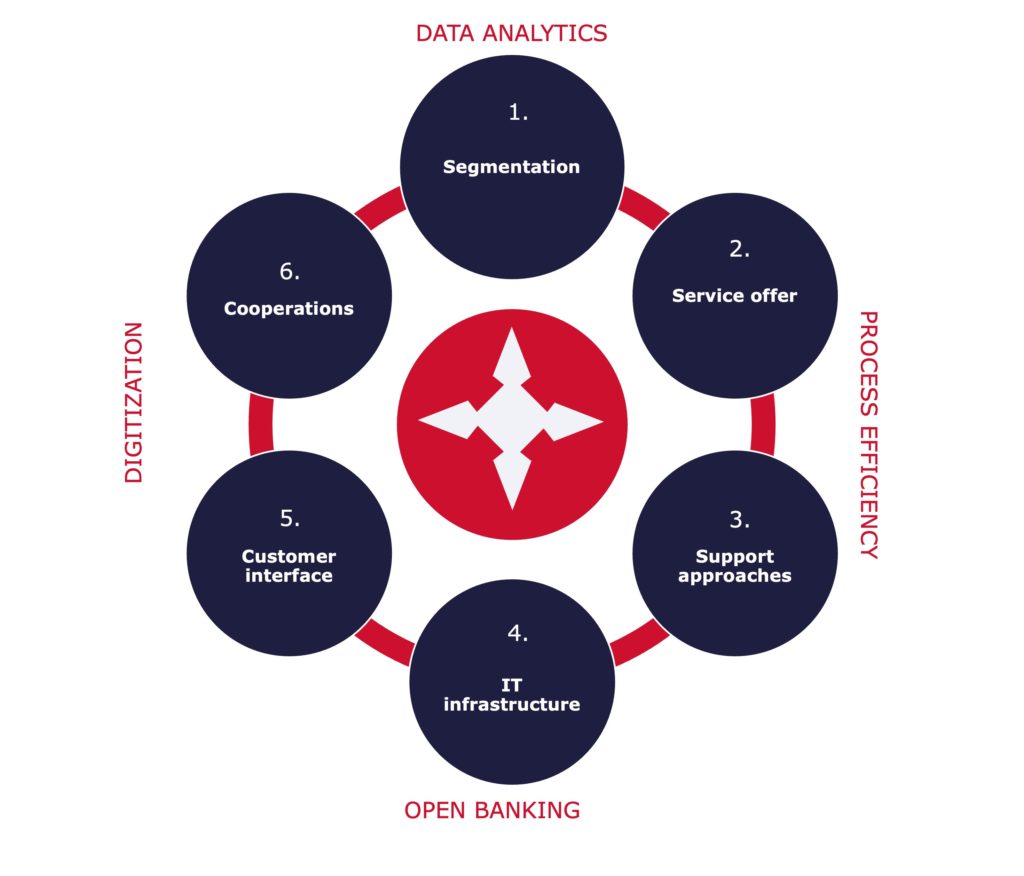 Our transformation compass helps you to illuminate the entire business model and ensure that the four success factors are successfully implemented on the basis of six fields of action. The influencing factors in the outer circle form the basis. Digitization, data analytics, process efficiency and open banking are central elements in the SME business and are therefore reflected in all six fields of action:
Segmentation – Analysis of customer needs using innovative analytics methods is the starting point for clear segmentation of the SME customer base.
Product & Service Offering – The systematic and interdisciplinary analysis of customer needs is the basis for serving SMEs holistically and in line with their requirements, thus offering the customer a "financial home".
Support approaches – The development of tailored support approaches for the various SME segments enables scalable support and puts the customer and its needs at the center.
IT infrastructure – The design of an open, API-enabled infrastructure creates the basis for an open banking approach and is also a prerequisite for offering Beyond Banking in the SME segment.
Customer interface – The customer-oriented development and expansion of sales channels is a core element of a modern and digital customer experience.
Cooperation partners – The strategic choice of cooperation partners is crucial, either to complement one's own product portfolio with diverse services or to become part of platforms.
The model also aims to make SME banks more resilient to exogenous crises in the future and increase the organization's adaptive capacity.
Request your personal copy of the study today. (The study is in German)